WeChat e-commerce – What is it and How it Works?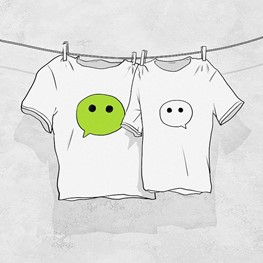 WeChat is China's all-in-one app. WeChat is incredibly popular in China since it offers messaging, social media, and e-payments all on a single platform. WeChat's nationwide presence in China, its exponential growth, and enviable services such as WeChat Shops make it a hot favourite for cross-border marketers.
WeChat was launched in 2011 by Chinese tech giant Tencent Holdings. It boasts of 1 billion active monthly users who use this app for multiple purposes such as messaging, paying bills, shopping, or even hailing a ride. If you are looking to launch your business in China's e-commerce market, then WeChat is the place to take flight.
WeChat offers an online marketplace referred to as WeChat Shop. True to its name, it is an online market whereby international companies can have access to Chinese buyers. This platform is at the core of e-commerce in China and is also called WeChat e-commerce.
Now, how does WeChat e-commerce work?
Organizations and people are required to make a 'WeChat Official Account.' This account allows them to promote their organization or brand. Those interested in a particular brand will follow that brand's account on WeChat, they will then receive push notifications from those brands. Once the interested individual enters the brand's account, they can have access to the brand's products.
WeChat e-commerce begins by setting up the official account of your brand. The account is your space to advertise your brand, gain followers, and eventually, link your account to WeChat Shop. The next step is to create a WeChat Shop. Think of it as creating an e-commerce website. WeChat shops are slightly different from other e-commerce websites in one aspect; they are very visually appealing. WeChat shops rely heavily on images rather than text to sell their products. Therefore, the information of your product must be visually appealing and share-worthy in order to increase traffic to your WeChat shop.
Now, setting up an account on WeChat is not as easy as mentioning it as a mandatory step!
International businesses looking to create a WeChat Shop will require an overseas business license, which is acquired through a special application process. International businesspersons must note that acquiring the license is an exhaustive process and can take anywhere between two to three months.
Some businesspersons act in haste and use a third-party license to create an account. While this may seem like an easier route compared to the months of waiting, it does not bode well for those sellers because then the store appears less trustworthy, negatively impacting how Chinese shoppers view your brand.
Once your brand's WeChat Shop is established, there are endless strategies that your brand can utilize to convert the advertisements into revenue.
'Moments' and 'accounts' are two prominent places in WeChat that fuel WeChat e-commerce. On Moments people share photos, short videos, or articles with other people in their circle and their followers. Your brand can purchase moments ads that will then be seen on targeted users' pages. That way, when people are viewing moments, they see the targeted ads of your brand.
If the targeting is done correctly, that is, if the ads reach exactly those people who need your brand's product or service, then there are high chances that they will click on your ad. Furthermore, if your content is compelling enough, people can even like and comment on your ad, driving engagement and increasing the odds of other people clicking through, too.
Alternatively, you can pay for account ads. With this method, your ads appear as banners at the bottom of the articles on WeChat. When a person finishes reading a WeChat article, your ad will be visible to them.
Likewise, posting quality content and engaging your customers with mini-programs and loyalty programs are proven winning marketing strategies to excel in WeChat e-commerce.
In summation, WeChat e-commerce is the gateway to your brand's presence in the Chinese marketing, offering innumerable ways to connect with billions of people.